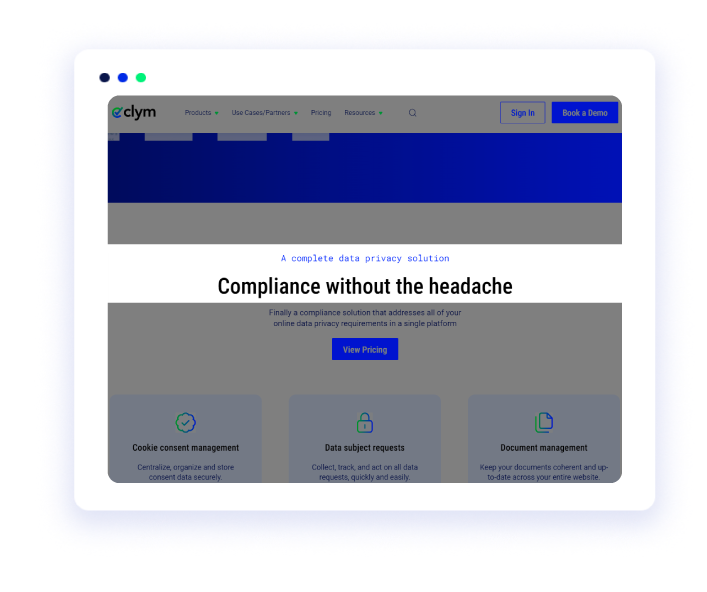 Accessibility Profiles
Facilitate website navigation for your users
Picture your website as a building with a door that is too small and no ramp for wheelchairs. This is where Clym can help.
Website accessibility compliance in one easy step
In addition to data privacy compliance, Clym, facilitates compliance with the various Accessibility Regulations within one platform, one interface, and for one price.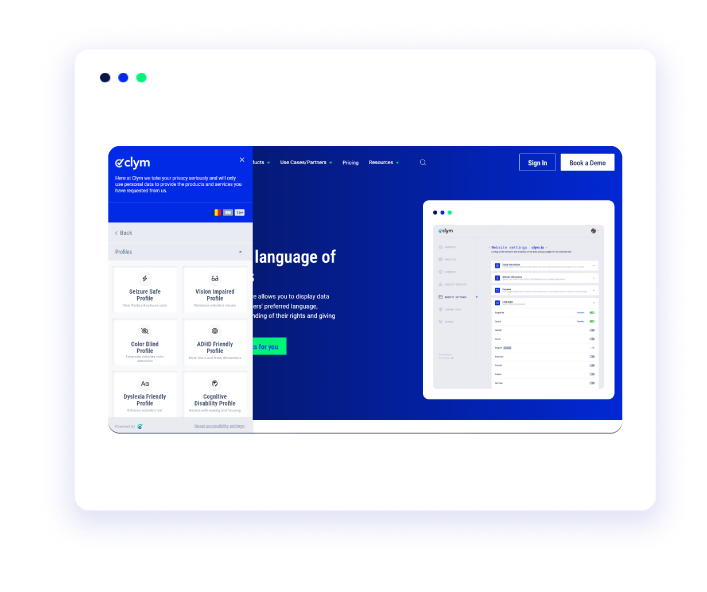 Six different profiles so your users can navigate your website with ease
With Clym, you already have at hand six different profiles so your users can navigate your website right away, facilitating compliance with accessibility regulations.
Seizure Safe Profile: Clears any flashes that may occur and reduces the color of the webpage.
Vision Impaired Profile Enhances the website's visuals so users dealing with visual impairment can access your website's pages easily.
Color Blind Profile: Increases your website's color saturation giving users an effortless browsing experience.
ADHD Profile: With more focus and fewer distractions, users with ADHD can scroll through your website's pages with the use of the focus bar.
Dyslexia Profile: By changing the font to a dyslexia-friendly one, your website's text gets enhanced and is easier to read.
Cognitive Disability Profile: Helps your users focus and read through the content of your website's pages by highlighting headings and subheadings and displaying a focus bar.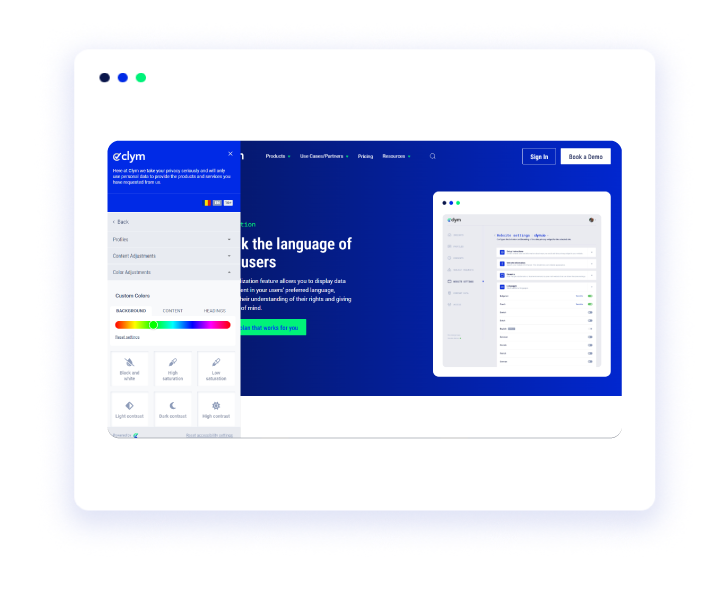 Provide your users with customisable options
Clym's Accessibility feature allows you to give your users 25+ Display Adjustments with a variety of user settings available, so they can customize their individual interaction with your website. No action needed from you, once the compliance widget is active.
Content scaling, Font size, Letter & Line Spacing that can be reset with one click of a button;
Alignment, Text magnifier, Hide Images, Mute Sounds, and more;
Color adjustments for background, content, or headings as well as contrast adjustments for a customized experience;
Navigation adjustments that offer two types of cursors, a reading mask, and a reading guide, so your users never lose their focus while reading through your website's content.
Questions?
If you would like to learn more, our compliance experts are happy to support you.
Leave us a Message
+1 980 446 8535
+1 866 275 2596