Is Your Website Compliant with GDPR, CCPA or LGPD? Find Out Now for Free!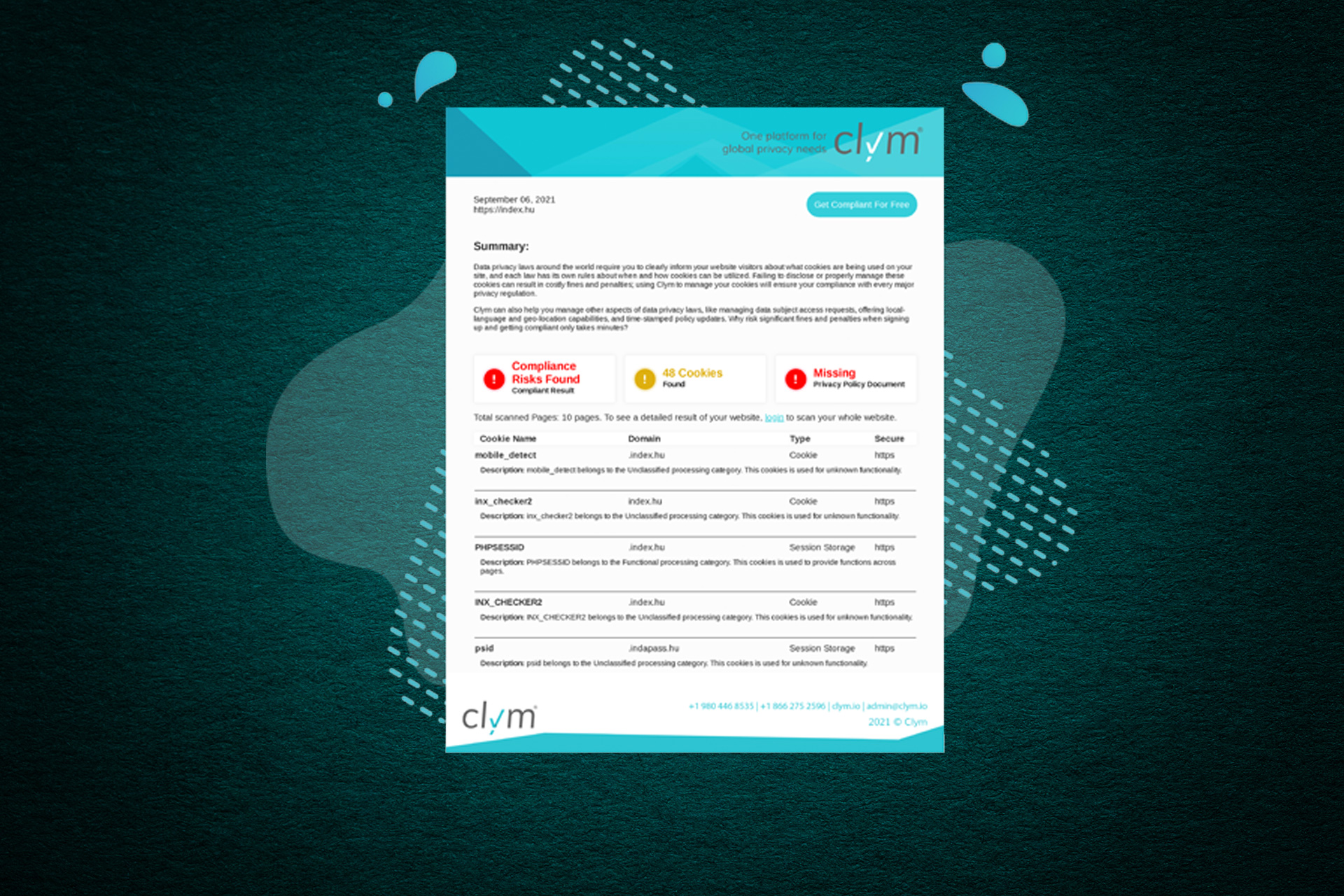 If you're responsible for your website's data privacy regulation compliance, you may have wondered whether your website would stand up to scrutiny from a regulator. The rules around the world are constantly changing, and it's challenging for businesses that target customers in different jurisdictions to keep up. These changes cause marketing and legal teams to be at odds due to their competing interests, and time and resources are often spent hiring expensive outside advisors to provide guidance regarding whether a company's website is in compliance.
To solve these challenges, Clym is excited to announce the release of its website scanner, which provides a comprehensive analysis of your website's data privacy compliance across a number of jurisdictions.
How does the scanner work?
Magic! Kidding, but it does certainly seem like that; our development team has been hard at work to make it easy for you to complete your scan. All you have to do is enter your domain URL into our scanner wizard and provide your contact details, then our scanner will review your website and in a few minutes you'll receive an email with your report, at no cost to you.
What comes in the report?
The report provides feedback regarding your site's compliance with consent and policy matters as they relate to major data privacy regulations like LGPD, GDPR, CCPA. We automatically classify your cookies to save you the headache of doing the research needed to properly organize and communicate to your website visitors what cookies and scripts you're running.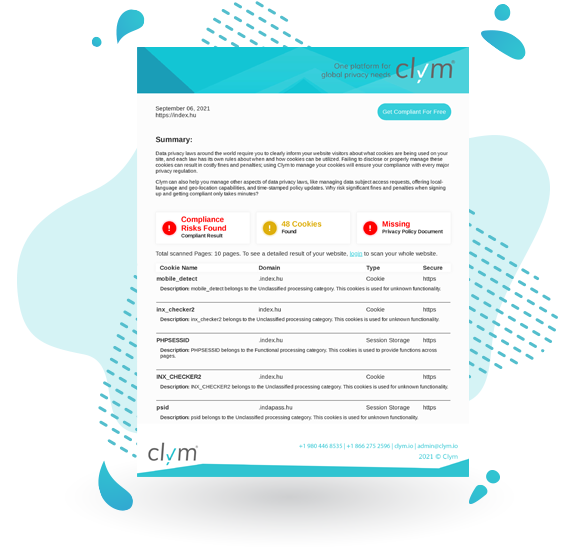 Why is this important?
Data privacy noncompliance is having a major financial impact on companies of all sizes around the world. Penalties range from the thousands to the millions of dollars, and private citizens are starting to flex their advocacy muscles to go after companies with noncompliant websites. Additionally, consumers are starting to become more aware of their data privacy rights, and will likely look to see how companies are managing their data privacy. By scanning your site, you can make sure that you're in compliance, and if you're not, reach out to us to see how we can help.
What should I do if there are issues with my site?
You can either schedule a demo with our team to discuss how Clym can help, or get started for free by following the link included in your report. When customers register with Clym, we configure data privacy settings to achieve compliance with major regulations so you'll stay on the safe side no matter your website's reach or target audience. Our features provide complete management of your cookie consent, data subject access requests, and policies. The best part is you can get started for free today, and for a limited time our team will handle all of your onboarding so that your site can become compliant quickly and easily.
Why should you choose Clym?
Clym believes in striking a balance between legal compliance and business needs, which is why we provide a cost-effective, scalable and flexible platform to comply with LGPD, GDPR, CCPA and other laws, including those in the UK, as they come online. Our platform provides consumers with an effective and easy-to-navigate way to opt-out of data collection while not infringing upon the website UI that businesses rely on to drive revenues. Contact us today about how your company can implement Clym to help manage your data privacy regulation compliance from a global perspective.