Disability Independence Day - Looking Back at 33 Years of Accessibility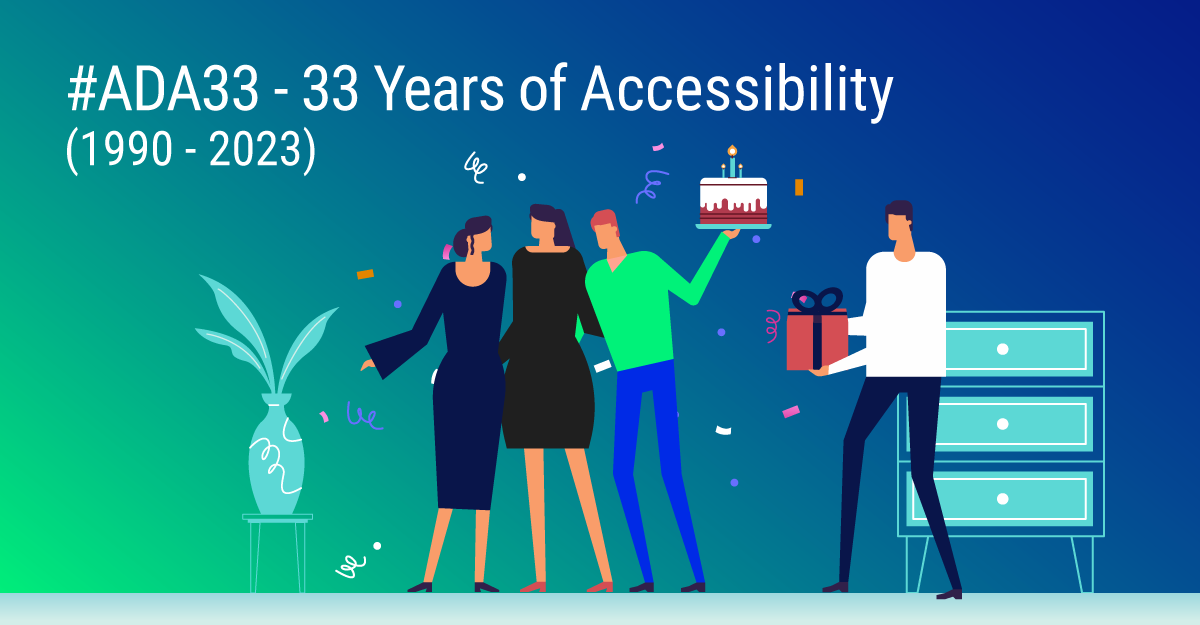 July 26 has been celebrated as National Disability Independence Day in light of the fact that on July 26, 1990 the Americans with Disabilities Act (ADA) was signed into law. The year 2023 marks its 33rd year of existence as the ADA continues to mandate that people with disabilities be given equal employment opportunities as well as access to any goods and services or communications.
ADA Overview
The Americans with Disabilities Act (ADA) is a federal civil rights law that prohibits discrimination against individuals with disabilities. The law was passed and signed in 1990 and since then it has been amended several times, most recently in 2008 when the Supreme Court's interpretation of the term 'disability' was deemed narrow and President George W. Bush signed into law The ADA Amendments Act (ADAAA). In its original purpose, the ADA was passed to ensure that individuals with disabilities had equal opportunities and a level of access to the same goods and services as individuals without disabilities, and it covers a wide range of areas, including employment, transportation, public accommodations, and telecommunications.
In its passing, the ADA brought about significant changes and broke down barriers that individuals with disabilities face daily, such as doors too narrow or bathroom stalls too small for those in a wheelchair, the lack of Braille signs or crosswalks for individuals with visual impairments. These changes, as well as others, improved access, mobility and safety and led to technological advancements. Still, with the rapid growth of the digital world, changes in this area have been slow to come and a need for accessibility in the online world arose which is still everpresent. The ADA was enacted in 1990, before the widespread use of the internet. As a result, the law does not explicitly address websites or online businesses. However, one part of the ADA's text is Title III which prohibits discrimination against individuals with disabilities in places of public accommodation. This includes access to physical facilities, such as restaurants, stores, and hotels, as well as access to communication, such as telephone services and online content. The ADA Title III requirements create an obligation for covered entities to take steps to ensure that individuals with disabilities benefit fully and equally of the business' goods, services, facilities, privileges, advantages, or accommodations. This means that businesses and organizations must make reasonable modifications to their policies, practices, and procedures to accommodate any individuals with disabilities. A key requirement of the ADA Title III is online services' accessibility which means that businesses must ensure that their websites and mobile applications are accessible to individuals with disabilities.
Website accessibility means that individuals with disabilities must be able to access and use the website in the same way as individuals without disabilities. This can include features such as text alternatives for images, captions for videos, and keyboard navigation for individuals who cannot use a mouse. Websites must also be compatible with assistive technology, such as screen readers and Braille displays. More modern laws, such as the Colorado Privacy Act (CPA) Final Rules require website owners to ensure accessibility where, for example, disclosures, notifications, and other communications to consumers are concerned.
Although the ADA was passed back when the digital age was barely emerging, and there is no explicit mention of websites and online businesses, over the years many accessibility lawsuits have been filed against businesses with inaccessible websites and the court's interpretation of the law has favored people with disabilities rather than the businesses being sued. Specifically, courts have interpreted the ADA to apply to websites that are considered places of public accommodation. The Department of Justice (DOJ), which is responsible for enforcing the ADA, has taken the position that websites of places of public accommodation must be accessible to individuals with disabilities. One such example is the case of National Federation of the Blind versus Target Corp. where the court decided in favor of the plaintiff that the retailer's website was not accessible to individuals with visual impairments and as such violated the ADA.
How to Observe #DisabilityIndependenceDay
It is important for businesses to make their websites compliant with Accessibility regulations currently in place. Dodging lawsuits and hefty fines, though significant, is just one side of this. On the customer side of things, businesses that are accessible to more people will be more favored and trusted. It's simple if one thinks about it. More people being able to access your website means more traffic, which leads to better business growth opportunities.
If you haven't considered this yet, now is the time for you to find out more about the Accessibility Regulation applicable to you as well as the WCAG Standard which is at the foundation of these regulations.
Additionally, once you've started the journey to making your website accessible, there are some characteristics that you need to include that have individuals with disabilities in mind, such as, but not limited to:
Proper color contrast;
The presence of alt-text on images;
The presence of captions on videos;
Accessibility profiles that address different types of disabilities;
Adjustments that allow your users to customize their interaction with your website, based on their individual needs.
How can Clym help?
Clym believes in striking a balance between digital compliance and your business needs, which is why we offer businesses the following:
All-in-one platform: One interface combining Privacy and Accessibility compliance with global regulations, at an affordable price;
Seamless integration into your website;
Adaptability to your users' location and applicable regulation;
Customizable branding;
Ready Compliance: Covering 30+ data privacy regulations;
Six preconfigured accessibility profiles, as well as 25+ display adjustments that allow visitors to customise their individual experience.
You can convince yourself and see Clym in action by booking a demo or reaching out to us to discuss your specific needs today.